Now Boarding
Glacier Park International Airport (GPIA) offers convenient access to destinations throughout Northwest Montana, including the "crown jewel of the continent," Glacier National Park. It also links residents of the area to both major U.S. hubs and international destinations. When we began working with them, the airport had recently started providing Montanans with non-stop flights to several new airports throughout the United States. However, GPIA had historically suffered from a perception issue with local travelers, many of whom felt the airport had few non-stop flights to popular locations. Often, they would travel as far as Missoula for air travel (more than a two hour car ride from Kalispell), also believing flights there to be cheaper, or with less layovers. GPIA also wanted to advertise to travelers in other major markets looking to travel to Northwest Montana. Again, many of these travelers were flying in to the area via Missoula, or even as far away as Spokane, to reach Glacier National Park and other recreational opportunities in the state.
We began working with GPIA in 2005 to promote their offerings in other markets, and in 2007, launched a campaign to help correct these perception issues and increase both local usage and destination tourism from outside the region.
Fly With Us
We began by partnering with United Airlines on a co-op campaign between themselves and the Montana Travel & Tourism Board (MTTB). United was offering non-stop service between GPIA and major American cities, such as Denver and Chicago. MTTB wanted to encourage more tourism in Northwest Montana, which at the time, was the state's second highest source of revenue. Working with the MTTB, we designed billboards, which appeared in both Chicago and Denver, notifying viewers of these available flights. Understanding your audience is a key component of an effective advertising campaign. During our research, we uncovered the fact that parts of Denver suffer from major traffic jams on the highways and frustratingly long lift lines during ski season. Using this information, our Denver-based outdoor advertisements during the winter promoted Northwest Montana's excellent skiing and easy mountain access. When summer came, we switched the messaging to promote travel to Glacier National Park. We also extensively researched the placements of these billboards in destination cities to achieve the greatest number of views. For example, we found a highly trafficked stretch of highway between Chicago and O'Hare International Airport, where we placed one of our billboards. It read "Glacier National Park, Non-Stop" and featured stunning images of the National Park.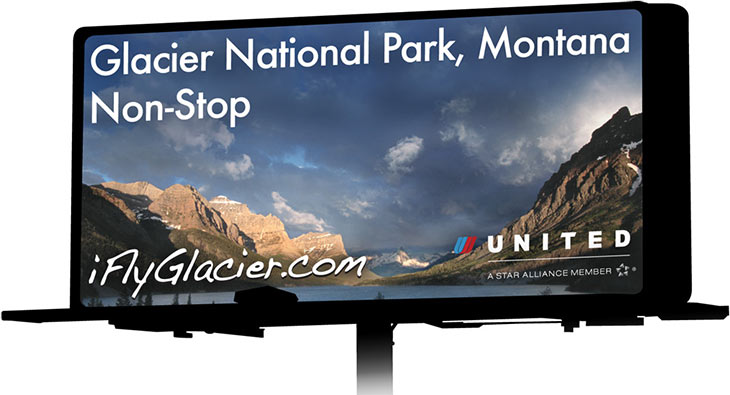 Non-Stop to CHI & DEN
We also used outdoor advertising to help spread the message of GPIA's many available non-stop flights. In between the skiing and summer seasons, many local travelers believed the off-season had very little in the way of non-stop air travel from GPIA. In reality, these flights were actually readily available throughout the year. To reach local Montanans and help correct this misperception, we designed billboard artwork showing several of the non-stop destinations serviced by GPIA. The ads were simple, yet compelling, imploring viewers to seek out new experiences in these locations. The messaging encouraged them to visit a museum in Chicago or catch a major league baseball game in Denver, each city, of course, being a non-stop flight from GPIA.
In addition to these campaigns, we also worked alongside major airlines like Allegiant, Sky West and United, to announce and promote their new flight destinations from GPIA. To date, most flights are now booked to capacity and the airport has seen an expansion of major cities served – an impressive feat in an otherwise consolidating and shrinking travel market.