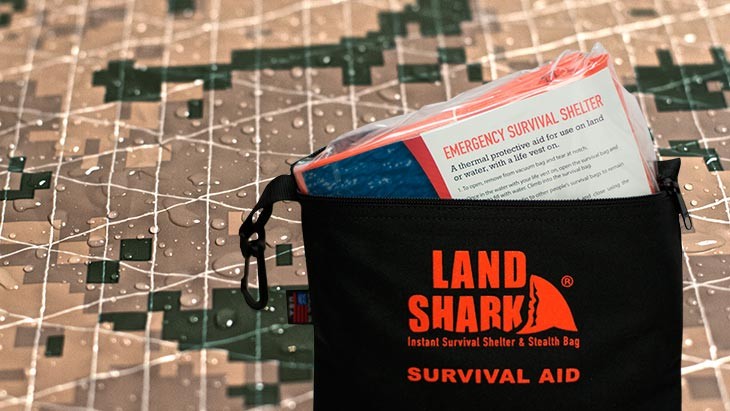 Let's Get Some Press
At Grid, we recognized that the biggest obstacle to selling a product like Land Shark, a product where someone would literally rely on it during a life or death situation, was to have the product extensively tested and reviewed by industry insiders. We knew that potential customers would want to perform extensive research on the product before they purchased - and they needed to be able to find independent reviews about it's quality, reliability and performance in the field.
One of our first steps was to put together a high-quality product demo and press kit to get a Land Shark in the hands of a wide variety of industry insiders for review purposes. We designed and facilitated the production of a high-gloss branded folder, letterhead on which we printed a customized thank you letter for every recipient (hand signed by the owner of the company), a brochure that highlighted the features of the product, stickers for promotional purposes, and a unique discount code that the reviewer could provide to their own media audiences.
We reached out to a select number of bloggers/vloggers, magazine and newspaper product reviewers, online stores and forum communities, making sure to get product demos in the hands of all sorts of outdoor enthusiasts - survivalists, emergency preppers, hunters, hikers, boaters and aviation enthusiasts, just to name a few - and encouraged these enthusiasts to perform their own independent testing of the product, in whatever manner they might find themselves using the product, and to share that unedited review with others in their communities.
The positive reviews began to pour in; from features in printed publications, such as the American Motorcyclist Magazine and American Handgunner, to popular online communities such as HuntingLife.com and The Loadout Room. The response was overwhelming! While we can't take credit for the quality of the Land Shark product itself, we do take pride in putting together an attractive and informative kit that prompted these reviewers to take the time to evaluate the product and share it with their own communities.