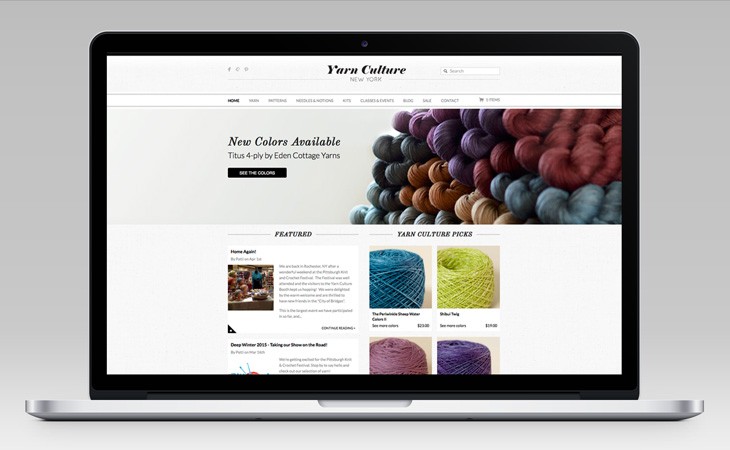 A Blossoming Relationship
We began by collaborating with both the client and the graphic designer to build out the websites Information Architecture. This document is akin to a building's architectural blueprint - it outlines all of the websites details (such as product price, description, blog, cart and checkout process, payment processing, class schedule, etc) and arranges them in relation to each other. This document maximizes the clients budget by ensuring that all pieces of content have a "home", and that all functionality (and the relationships between each piece of functionality) is fully scoped out and can integrate together as needed. By spending this time up front, we minimize the timeline and budget impact that comes with last minute design or development changes while the work is mid-course.
The Informational Architecture document helped outline every graphic design element that would be needed - big or small - and where those elements would be duplicated or should remain consistent for branding purposes. By making sure elements were only designed once, and that branding remained consistent between every element, we reduced the amount of time and budget needed during the design phase of the project.
One of our highest priorities during development was to build the website in a way that was both easily updated by the client and still robust and flexible enough to accommodate future development. A website should never be viewed as "complete" - meaning, your website should adapt and change as your business or website goals shift, and/or as you analyze the traffic patterns of visitors to your website. Are you seeing a lot of traffic from a specific geographic location? You should tailor some of your content to use local terminology. Does your business want increase sales of a certain product? You should add that product into your homepage slideshow, or feature it in a blog article. Choosing the right content management system is critical for the long-term success of your website, so we spent time looking at Yarn Culture's industry and specific website structure to determine the best fit.
The second highest priority, given that Yarn Culture is a product-based client, was to make sure that users could access and make purchases easily from any internet connected device. During every phase of the design and development we asked how mobile viewers would want specific pieces of information displayed. We implemented decisions such as making the "Add to Cart" and "Checkout" buttons larger on a smartphone or tablet, to account for having to click these buttons with a finger. We minimized the amount of ancillary product information (such as manufacturer background) shown initially on mobile view, while still providing a link to expand the information on demand. It is important to be cognizant of these questions as the design and development are occurring, to make sure that all viewers have an enjoyable purchase experience regardless of their viewing device.
With such a high quality product, Yarn Culture knew that they would need to dedicate some of their budget towards having professional photography shot of each of their products. However, as they began to stock more products, they found that it was going to be cost prohibitive to continue to have a professional photographer shoot each and every one. Instead, our in-house photographers worked with Yarn Culture, to create a repeatable photography style that would allow Yarn Culture staff to take photos themselves. We helped them select all of the necessary equipment, from the appropriate camera and lens to a brand appropriate background, and worked with them in their office to set up a photography station. This has enabled them to produce consistent, high quality photographs on demand, which has been essential to selling their products.