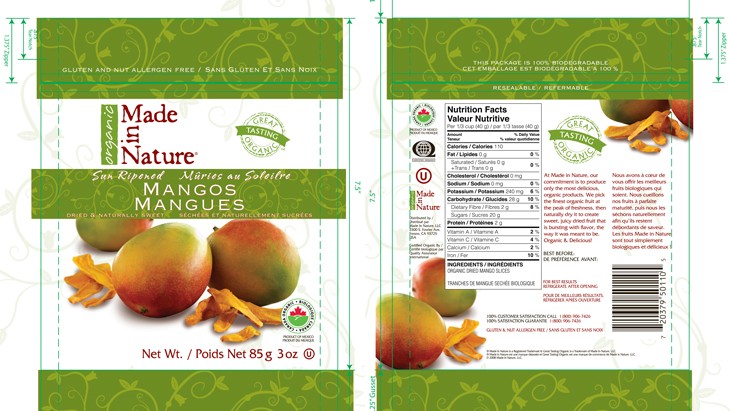 Creating and Improving
During their relationship with their previous agency, Made in Nature had established a look and feel for their brand that they wanted to continue - including their logo and signature watermarked flourishes. They were ready to add several new products to their existing organic dried fruit line, including Deglet Noor dates, and needed packaging that was unique (each a products has it's own color scheme) but remained visually consistent with the other products in that line.
We began our work by producing professional photography of the new products, paying particular attention to matching the overall photographic aesthetic that had already been established, such as product angle, size, and composition with other elements. Next, we made color palette selections that complimented the product, matched with the other colors in the product line, and would be eye-catching on the shelf. As we designed the final packaging we also paid close attention to all statements and labeling (including the nutritional label) to ensure they were in compliance with the U.S. Food and Drug Administration's Federal packaging regulations.
The final step was to make an alternate version of the packaging that would meet international export/import laws, and statement and labeling regulations for the destination country. For example, Canada requires that all packaging statements are listed in English and French. We facilitated the accurate translation of all statements, and adjusted the design accordingly to fit twice the information than the domestic packaging. We also advised on the legal requirements for making certain advertising statements, such as "Organic", "Good Source of Fiber" and "No Sugar Added".
Through our contacts, we helped Made in Nature find a more cost-effective packaging material provider and manufacturer of the product bag itself. We worked directly with all of Made in Nature's vendors to facilitate the production of the new product bags, ensuring that the final product was fully to spec.
After this work, Made in Nature brought us on to produce a wide variety of their marketing efforts. We created original illustrations for employee t-shirts, and researched, copywrote, designed and printed a holiday tri-fold that highlighted delicious dried fruit holiday recipes. We improved the layout and readability of their internal sell sheets and product information, used to entice retail outlets to stock their products. We also designed and produced a 5'x2'x2' product display shipper, which could be flat packed and mailed to a retail outlet, and then assembled to display Made in Nature's products in an eye-catching way.