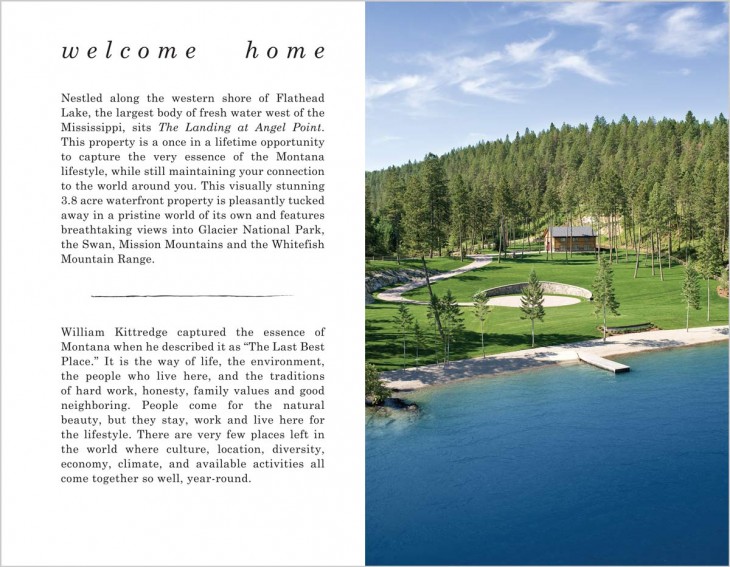 Make It Worth Something
We started our work with the Landing at Angel Point by designing a simple logo that could be used on all future marketing collateral. It needed to be simple, so as not to distract from the collateral or photography, but memorable enough to tie all pieces of marketing together.
The next step was to get high-quality photographs of all aspects of the property, from the layout and improvements that had been made, to the unique textures and gorgeous landscaping that was already present. For the photography work we utilized our own in-house photographers on the grounds of the property itself, and acted as the creative director for a series of aerial shots that we arranged. We worked with the aerial photography company closely, outlining specific shots that we needed, and closely reviewing all shots to verify they were of the utmost quality
Using this gorgeous photography, we designed, copywrote and facilitated the production of a stunning 24-page booklet that detailed the features of the property. We made sure to highlight the characteristics that would appeal to this level of potential buyer, such as the availability of deep water moorage, the natural pebble beach shore, the extensive amount of site preparation, and the natural privacy that the location provided. The booklet also provided detail into the surrounding economy and lifestyle that a future resident would enjoy, framing the Landing at Angel Point as an incredibly attractive place to live, work and play.
We understood that the quality of the printed piece itself would also play a role in communicating the worth of the property. Grid was actively involved during each phase of the printing process, including meticulously proofing each page to ensure color accuracy and image quality.
The copy that we wrote for the booklet served as the foundation for many future collateral pieces, including an oversized, glossy postcard, three page folded brochure, and an informational website, all of which drove the viewer to contact the Real Estate Agent for more information.